This information was taken from the McLaren F1 owners book and is copyright to McLaren Cars Ltd.
Mass is the essential enemy of dynamic performance in any supercar.
There is no substitute for light weight.
The McLaren F1's design is Formula One inspired throughout, yet freed entirely of racing's regulation straight-jacket. The McLaren F1 simply redefines such familiar, and often devalued terms as sports car, Grand Touring car and supercar. It retains the finest virtues associated with each, offering fast and comfortable long-distance touring.
The McLaren F1's forward, centreline driving position and its uncompromisingly 'driver-centric' cockpit ergonomics reflect pure Grand Prix practice. Their sole objective is to provide maximum visual and dynamic input to ensure instant obedience to driver command.
Its aerodynamic form and features derive directly from Formula One technology. The full underbody ground-effect aerodynamic management system is further enhanced by fan-assisted removal of boundary layer airflow. Further advanced features include active intelligent brake cooling and - crucially - automatic aerodynamic centre of pressure control. Innovative front and rear suspension designs resolve age-old incompatibilities between precision handling and quiet compliant comfort in a high performance road car.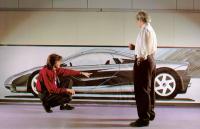 Gordon Murray & Peter Stevens
The McLaren F1 employs conventional Formula One-style mid-engine mounting - a configuration ideal to combine optimum weight distribution and mass concentration within the wheelbase. Most mid-engined sports car designs compromise such conceptual purity with badly place luggage, fuel or driver load, or by towering engine/transmission assemblies centre of gravity height. Now the McLaren F1 - for the first time in any sports car avoids all such compromise. By ingenious packaging it concentrates all its engine/gearbox, fuel, occupant and luggage masses closely around it centre of gravity - which is maintained at minimum height and remains static under all load conditions.

initial sketch showing layout
The F1's exceptionally low polar moment of inertia guarantees nimble handling and manoeuvrability. Above all the McLaren F1 has the highest power-to-weight ratio of any production car yet made. Mass is the essential enemy of dynamic performance in any supercar - there is no substitute for light weight. The F1's mere 1,018kg included the most powerful and efficient purpose-designed large capacity V12 engine ever applied in production. Coupled with a production car chassis designed to be more rigid than any previously conceived - the result is dynamic indeed. The F1's incredibly low target weight has been achieved despite meeting exceptionally demanding requirements for strength, stiffness, safety and comfort. Only the most advanced carbon composite structures could reconcile these apparently conflicting requirements. The result is the worlds first full advanced-composite production car - a car entirely dedicated to pure driving pleasure - a car whose revolutionary features simply re-write the rules.
The McLaren is designed for greater torsional and bending
stiffness than any other production car ever built.
The McLaren F1's advanced-composites monocoque comprises the entire chassis/body unit, combining both uni-directional and woven carbon fibre materials. Most primary structure panels are double skinned and stiffened by aluminium honeycomb. The McLaren possesses immense torsional and bending stiffness.
The primary structure was designed and developed using a computer aided design finite element analysis programme to optimise both material thickness and fibre orientation for maximum strength, stiffness and safety - sophistication impossible with traditional chassis materials.

The monocoque's primary strength derives from two longitudinal large-section floor beams, uniting cockpit bulkheads. Behind the driver's seat, a sturdy pier rises integrally with the engine air box to provide exceptional rollover protection, integrated into the roof A- and B-pillars, to form an enormously strong survival cell. This is augmented by tailor made driver restraint harness and laminated fixed cabin glass throughout.
Front and rear crash structures - composite forward mouldings and the Inconel rear silencer box - far exceed all legal requirements world-wide. The Formula One specification puncture-proof fuel cell is also safely centre mounted.
The engine doubles as a load-bearing chassis member, mounted against the rear cockpit bulkhead and attached to two monocoque shoulder beams at the rear.

the driver's seat ready for the autoclave
In each front engine mounting, intricately tailored semi-flexible bushes rigidly transmit traction and braking loads, while absorbing vibration and noise. All major torsional loads from the rear suspension are similarly absorbed via flexible bushes uniting each cylinder head to the shoulder beams.
Each car is a jigsaw of five thousand pieces of resin-impregnated carbon fibre, pressed around seventy different moulds in anything from two to seventeen layers. Each mould is bagged up and held in a vacuum before being cooked for three hours in a huge oven under 90 psi of pressure and 125°C to bond it together. The cured carbon -fibre pieces are then stuck together, rather like building a giant Airfix model with full-size parts, until you have complete bodyshell ready for the paintshop.
The totally-integrated carbon structure has been created entirely at McLaren Cars' own composites facility, incorporating materials and techniques at the forefront of this technology - several of them unique in road vehicle manufacture.
CAD finite demand analysis of lower chassis
For the primary structure of McLaren's first production sports car, no material other than carbon composite was even considered.
The McLaren F1 achieves its astonishingly lean target weight of only 1,018 kg thanks largely to its moulded advanced carbon-composite monocoque chassis/body structure.
In fact, it was McLaren International who pioneered modern automotive mould carbon-composite chassis technology in 1981 with its race-winning Type MP4/1 Formula One design.
Carbon-fibre simply offers an immense stiffness-to-weight ratio, hence its use in chassis construction of every significant racing car built today. For McLaren's first production sports car, therefore, nothing other than carbon composite was even considered.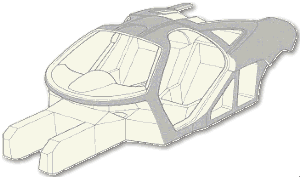 occupant survival cell
The Formula One style occupant survival cell incorporates full rollover protection, front crash beams and protected central fuel location. The 6.5-litre Inconel exhaust silencer is restrained against the transmission casing by high tensile steel cables and is utilised to adsorb energy progressively during rear end impact.
The F1's styling reflects the structural freedom offered by McLaren Cars' advanced composite moulding techniques, and combines purely functional aerodynamic form with aesthetic appeal.
This radical new system offers a hitherto impossible
combination of compliant freedom yet precise geometric control.
The McLaren F1's suspension offers a remarkable breakthrough in compliant ride comfort without compromising Formula One-standard geometry control. Since the rigid suspension mountings necessary in racing would transmit unacceptable shock, vibration and noise in a road car, adequate compliance and truly controlled geometry have until now been mutually incompatible.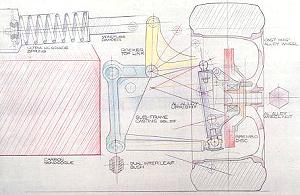 front suspension includes a unique compliant subframe assembly
Now McLaren Cars' Ground-Plane Shear Centre (GPSC) front suspension-mounting system offers a solution to this age-old problem. The front suspension features unequal-length double wishbones supporting a machined cast-aluminium hub carrier. Each front suspension wishbone is connected to a subframe via plain bearings, the frame itself being four-point mounted upon the carbon monocoque via purpose-designed elastomeric bushes.
This radical new system presents in principle a tyre contact patch stiffness three times greater than that at the hub centre, compared to a convention system's stiffness of one-third that at the hub. Thus GPSC preserves maximum feel for the F1 driver, while still insulating its passengers from road shock. Above all, GPSC exhibits four major Formula One attributes; it is elegant, simple, light and it works. Optimum steering precision is achieved by housing its rack directly within the cast front bulkhead for maximum rigidity. It requires no power assistance.
Because the car's rear end is powered, GPSC is inappropriate there. Rear suspension loadings are all fed via the transaxle and engine assembly into the central monocoque chassis, drive and braking loads being accepted via axially rigid bulkhead mountings. Torsional loads are absorbed via innovative new Inclined Shear Axis (ISA) mounts into the shoulder beams each side of the engine.
All mounting bushes also act as highly effective noise and vibration insulators, while the V12 engine's substantial mass is employed as a vibration damper to absorb high-frequency road shock transmitted by the precise rear suspension geometry. The F1's lower wishbone rear mounts are linked laterally by a compliant beam, flexibly mounted on the transaxle casing to permit asymmetrical displacement of either wheel, but rigid resistance to symmetrical loadings.
McLaren Cars selected Bilstein to design and develop the F1's special lightweight monotube gas-pressurised dampers. These race derived units are manufactured from aluminium to give 30 per cent great heat dissipation and are tuned to suit the F1's characteristics.
Impeccable braking is a primary Formula One
requirement in equal demand on the road.
Braking performance is thus a major priority.
In the development of the F1, McLaren Cars have worked closely with Brembo of Italy to develop exceptionally high-performance brakes using - for the very first time on a production car - Formula One-type monobloc aluminium four piston calipers, clasping the latest road usable ventilated discs.
Fully divided front and rear hydraulic circuits are actuated by the Formula One-style floor-pivoted pedal, while the F1's lightweight aluminium handbrake caliper has also been specially developed by Brembo.
Slowing such a car safely from near maximum speeds demands considerable brake cooling. Normally such a high-speed cooling requirement becomes embarrassing at low and medium speeds, reducing disc, caliper and pad base temperature excessively between applications. Consequently, the McLaren now introduces intelligent brake cooling.

With speed and brake application sensors feeding an electronic control unit, brake-cooling air intake ducts open automatically only when the driver makes a sufficiently demanding application. Since closed brake ducts create no drag, they improve the F1's aerodynamic efficiency. Furthermore, the system enhances braking feel for the driver by sustaining comfortable pad and disc base temperatures during enthusiastic motoring.
In contrast, two conventional areas of modern road car development which actually degrade driver feel and feedback are power brake assistance and anti-lock braking systems. By developing the F1's brakes along Formula One lines, and particularly by achieving the project's exceptionally low target weight, power assistance is unnecessary. With the automatic aerodynamic Brake and Balance 'Foil feature braking effect and driver feel are improved, since its downforce enhancement then assists the driver under heavy braking by increasing the load on each wheel.
Right from the McLaren F1's initial design, the tyre was
considered as an intrinsic suspension element.
tyre tread is asymmetic and directional
Potential speeds above 200mph, over 550bhp, high cornering loads and high downforce demand no ordinary tyre. The dedicated Goodyear 'F1' P235/45ZR17 front, and P315/45ZR17 rear, tyres have been created using the latest race-proven techniques - computer modelling, CAD/CAM generated mould cavities, high-speed constructions, and exotic lightweight materials. Right from the McLaren F1's initial design, the tyre was considered as a intrinsic suspension element within the programmes complex handling, comfort and safety calculations.
Chosen tread pattern is asymmetric and directional, sharing many of Goodyear's 'Quattro Stazione' pattern features from their latest racing rain tyre. Tyre sizes have been carefully selected to optimise traction and braking and finely balanced handling. A current trend towards ever-larger wheel diameters has been resisted, 17-inch being judged best for weight, package and contact patch geometry.
Since the tyres are different-sized front and rear and directional, no two on the McLaren F1 are the same. Consequently the F1 carries no spare, the weight of a component which is most unlikely to fail in normal use being deemed unacceptable. However, in case of emergency a puncture sealant aerosol is carried. The tyres are manufactured at Goodyear's race tyre plant at Akron, Ohio, USA.
The McLaren F1 rides on purpose-designed OZ Racing wheels, developed to match the car's character. They are cat like Formula One racing wheels in aerospace grade magnesium alloy, and feature sophisticated anti-corrosion measures to ensure sustained performance and appearance through the F1's long life.
Access to the centreline driving seat is assured by wide-opening
Dihedral Doors incorporating sections both of floor and roof.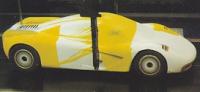 working with the wind tunnel
McLaren F1 size, style and aerodynamic targets were established upon the project's inception. Peter Stevens head McLaren Cars styling studio, working with the wind tunnel team to produce hundreds of drawings and many models preceding the full-size 'clay'. Thousands more man hours then perfected the F1's final shape.
Its external envelope is tailored to optimum aerodynamic performance, the sophisticated ground effect solution obviating conventional drag-inducing spoilers and wings. The F1 requires no tail overhang to house projecting mechanical components or after-thought luggage space. These are packaged within its wheelbase, as are all major masses to minimise polar moment of inertia and maximise inherent agility.

sketches of the advanced aerodynamics
The F1's nose form is far removed from the conventional deep' chin spoiler'. On each side, lightweight aluminium radiators are located within profiled air-ducts. Cooling air exits into the low pressure area behind each wheel arch. Between its twin air intakes, the F1's nose swoops upward, directing airflow beneath the floor, which rises under the tail to form a downforce generating 'diffuser' whose exit arches provide the only visible clue to the ground effect aerodynamic design.
A scuttle-top air-deflector aerofoil deflects raindrops and insects from the windscreen, while vents behind the headlights assist cooling when idling stationary in traffic. A discreet high efficiency overhead intake feeds cool air to the V12 engine. Easy access to the centreline driving seat is assured by wide-opening 'Dihedral Doors' incorporating sections both of floor and roof, which open in the innovative space-saving manner.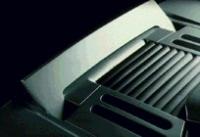 louvred tail deck with BB 'foil
The moulded rear windscreens provide an unobstructed view of the 48-valve V12 engine and a laminated transparent soundscreen separates engine bay from cockpit. The tail deck is extensively louvred to release hot air from the engine and exhaust bay. Its trailing edge also house the unique 'Brake and Balance 'Foil', a crucial feature of the McLaren F1's aerodynamic systems.
n e x t